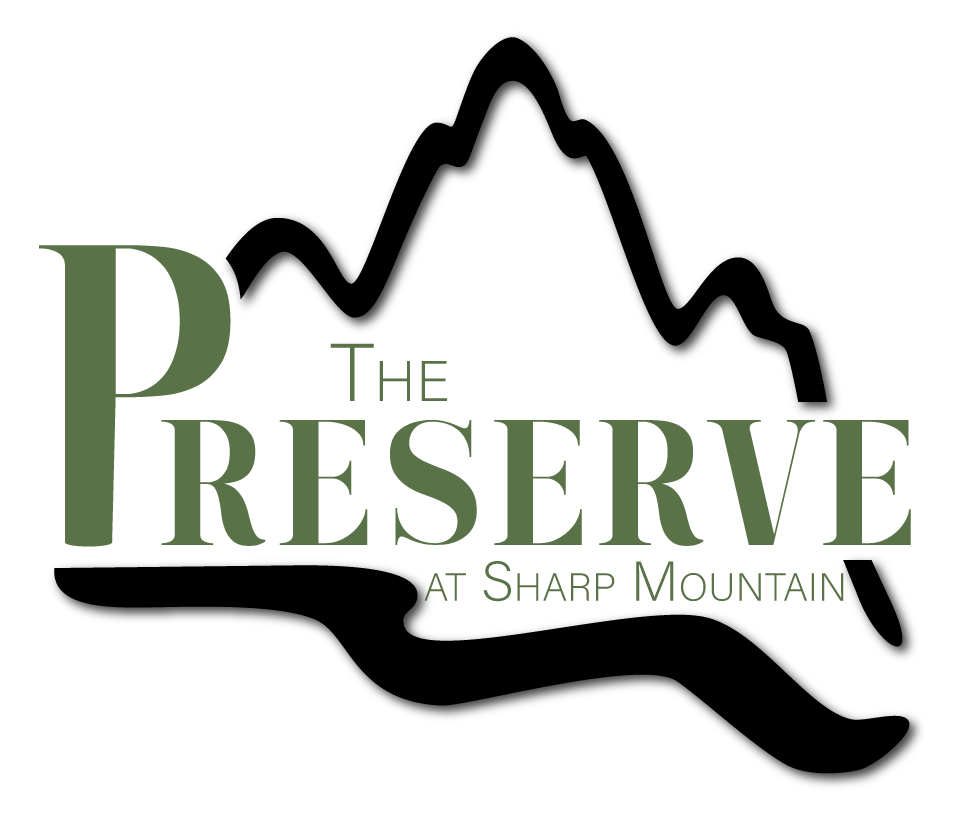 For Those Called
To The Mountains
The Preserve at Sharp Mountain is a 1,600-acre gated community in North Georgia's Pickens County at Jasper. Spacious homesites nestle in the forest among abundant natural resources of waterfalls, boulders, and scenic vistas of the Cohutta Mountains.
Home and nature are at harmony in The Preserve, a luxury residential community with 360-degree mountain and valley views.
Property owners enjoy a distinctive quality of life enriched by numerous parks and trails, gorgeous natural features, and spacious lot sizes. These environmental amenities are balanced by the convenience of nearby shopping, dining and entertainment options; medical facilities; and a major thoroughfare only 10 minutes from the gate affording access to the quaint mountain towns of North Georgia.
To the south, Atlanta's thriving commercial, cultural, nightlife and sports venues are little more than an hour away.   The big-city lights can be seen from higher southward facing lots within The Preserve.
mountain living, above all
convenient to everything you enjoy
While property owners are drawn to the simple bliss that nature affords, The Preserve at Sharp Mountain boasts access to modern conveniences in nearby Jasper, Ellijay, Blue Ridge, Canton and Woodstock.  Whether you wish to shop, dine, golf, or explore North Georgia's parks or wineries, it's all within reach of The Preserve.
Schools
The Pickens County public school system serves a growing population of families in The Preserve with school-age children, providing pupil transportation pickup and dropoff at the front gate. Higher education opportunities are available at nearby Reinhardt University and Chattahoochee Technical College.
Shopping
From everyday essentials to a myriad assortment of boutiques and shops specializing in antiques and mountain crafts, a world of commerce awaits beyond The Preserve, from big-box national retail outlets to small businesses targeting niche markets. North Georgia is a shopper's paradise.
Dining
While mouth-watering barbeque chicken, beef and pork are undisputed North Georgia delicacies, evidenced by the number of eateries dedicated to that cuisine in Jasper and environs, dining options are diverse, sophisticated and palate-pleasing, running the gamut from Chinese to Italian to Mexican, seafood, steak and more. Dessert, anyone?
Entertainment
Three Georgia capitals are within an easy drive of The Preserve: the state capital Atlanta, the apple capital Ellijay, and the marble capital Jasper, which also is known as Georgia's First Mountain City. Jasper annually hosts the Georgia Marble Festival and the Sheriff's JeepFest. From Atlanta north to Blue Ridge, endless entertainment options are available, from major league sports to railway excursions, community choruses and theater to tours of lavish gardens and historical landmarks.
Recreation
Property owners in The Preserve can enjoy access to a wide range of recreational activities available within short distances of the community.
Whether your interest is hiking, biking or four-wheeling, horseback riding, fishing, zip lining, kayaking, golfing, playing tennis, glamping or traditional camping, adventure awaits not far away.
State Parks & Wineries
The Preserve is within close proximity to some of Georgia's most visited state parks, noted for hiking, camping and spectacular natural resources. North Georgia has become a significant wine-producing region. Sharp Mountain Vineyards just outside The Preserve's main gate is a perennial stop during the annual Wine Highway Week sponsored by the Winegrowers Association of Georgia. Six vineyards are located close by in Jasper, Ellijay and Talking Rock.
luxury living in harmony with nature
While North Georgia offers abundant diversions, the enticements within The Preserve are enough to make homebodies of property owners. With 9 trails and parks, and other natural amenities, coupled with verdant homesteads of 3 acres or more, The Preserve offers luxury living in harmony with nature. That's the beauty and the value of living in The Preserve.

Boulder Falls Park
Massive rock outcroppings punctuate this aptly named park that features two hiking trails. The tributary Boulder Falls Branch bisects the park and becomes a scenic waterfall known as Mystic Waters.

Sharp PointFalls
This is an impressive cascading waterfall seen from The Preserve's main thoroughfare, Sharp Mountain Parkway. Its flow serves as a sort of weather gauge, coming in whitecapped torrents following deluges. It is safely viewed from a footbridge adjacent to the parkway.

Enterkin Park
A picnic-ready gazebo equipped with grill and benches sits at the head of twin trails along the waters of Sharp Mountain Creek amid forest and flowers.

Talking Falls Park
A meandering downhill hiking trail in this park intersects with Scarecorn Creek at the bottom and follows the creek northward among numerous small waterfalls. Fantastic views of craggy cliffs and cavelike openings in the rocks are seen above the creek, which forms the park's western boundary.

Sharp Mountain Nature Park
Lodge & Lawn
The Lodge is the The Preserve's community center, where meetings and social activities abound, from the annual picnic and fall fest to happy hours. The Lodge is an open-air structure with a large stone fireplace and grill. The groomed oval lawn is the ideal spot for a picnic, games, or just lazing in the sun. The Nature Park also includes the Cubs Den playground, Split Rock Gardens with a small pond, and an overlook offering panoramic mountain and valley views.

Nesting Waters Park
This is The Preserve's welcome center, greeting visitors just inside the east gate. A gazebo overlooks a fountain centerpiece on a small, tranquil lake. A hiking trail with a wooden footbridge over a lake tributary loops around the park.

Twin Creeks Park
This relatively rare flatland on the mountain features a playground and picnic area. Pettit Creek borders the park on the north. Towering trees provide plenty of shade. What's in your picnic basket?
The Preserve at Sharp Mountain is placed high and out of the ordinary. Here, above it all, residents can glean inspiration from panoramic views of surrounding peaks and valleys.  Between sunrise and set, revel in boundless visions that expand your imagination far beyond the horizons you can see.  This is mountain living, above all.  At home with nature.  Nature at home.